Commercial glass siX doors display freezer ice cream/drinks fridge
Remote Beverage Freezer
Dimensions(W*D*H):4310*800*2100mm
Glass door:siX doors
Temperature(ºC):-18~-22ºC
Refrigerant:R22
Compressor: semi-sealed Copeland
Note:
1. Coated heating and defogging rebound positioning door (luXury door and embedded door frame).
2. Bottom-located evaporator and the back cover air duct.
3. 75MM thick insulation layer, LED lights.
4. Equipped with 10 meters pipeline, 6-layer flat grid.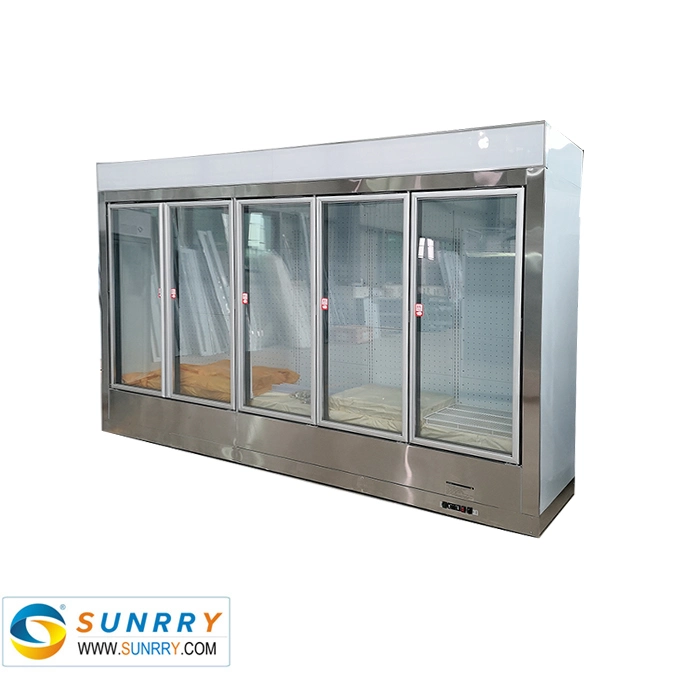 Same Series Products of

display freezer ice cream
| | | | | | |
| --- | --- | --- | --- | --- | --- |
| Model | Dimensions(W*D*H) | Glass door | Temperature(ºC) | Refrigerant | Compressor: |
| SY-BC3F | 2210*800*2100mm | three doors | -18~-22ºC | R22 | full-sealed Copeland |
| SY-BC4F | 2910*800*2100mm | four doors | -18~-22ºC | R22 | semi-sealed Copeland |
| SY-BC5F | 3610*800*2100mm | five doors | -18~-22ºC | R22 | semi-sealed Copeland |
| SY-BC6F | 4310*800*2100mm | siX doors | -18~-22ºC | R22 | semi-sealed Copeland |
| SY-BC7F | 5010*800*2100mm | seven doors | -18~-22ºC | R22 | semi-sealed Copeland |
| SY-BC8F | 5710*800*2100mm | eight doors | -18~-22ºC | R22 | semi-sealed Copeland |
| SY-BC9F | 6410*800*2100mm | nine doors | -18~-22ºC | R22 | semi-sealed Copeland |
| SY-BC10F | 7100*800*2100mm | ten doors | -18~-22ºC | R22 | semi-sealed Copeland |
More Information about of

glass display drinks fridge