Freezer High Speed Rolling Doors or Rapid Doors
Such rapid door is specially designed for freezer, cold room, or cool room. It is made from 30mm thick thermal insulated
sandwich curtain, and with all-round heating device to avoid frozen. Thus it can work well in low temperature like -25ºC.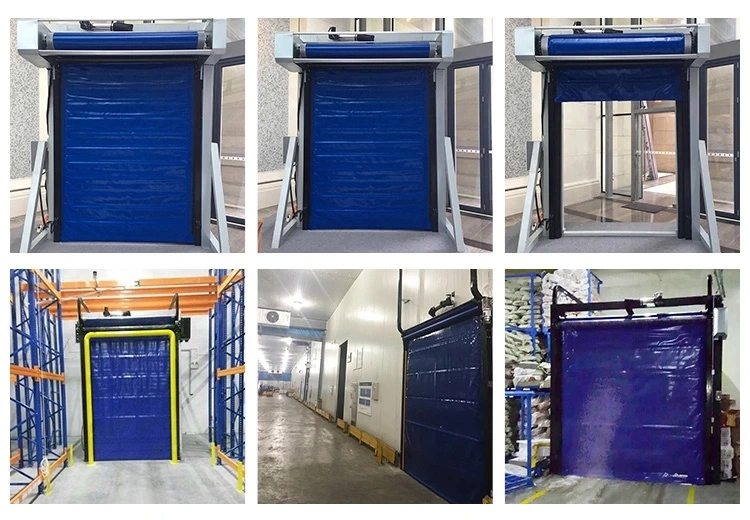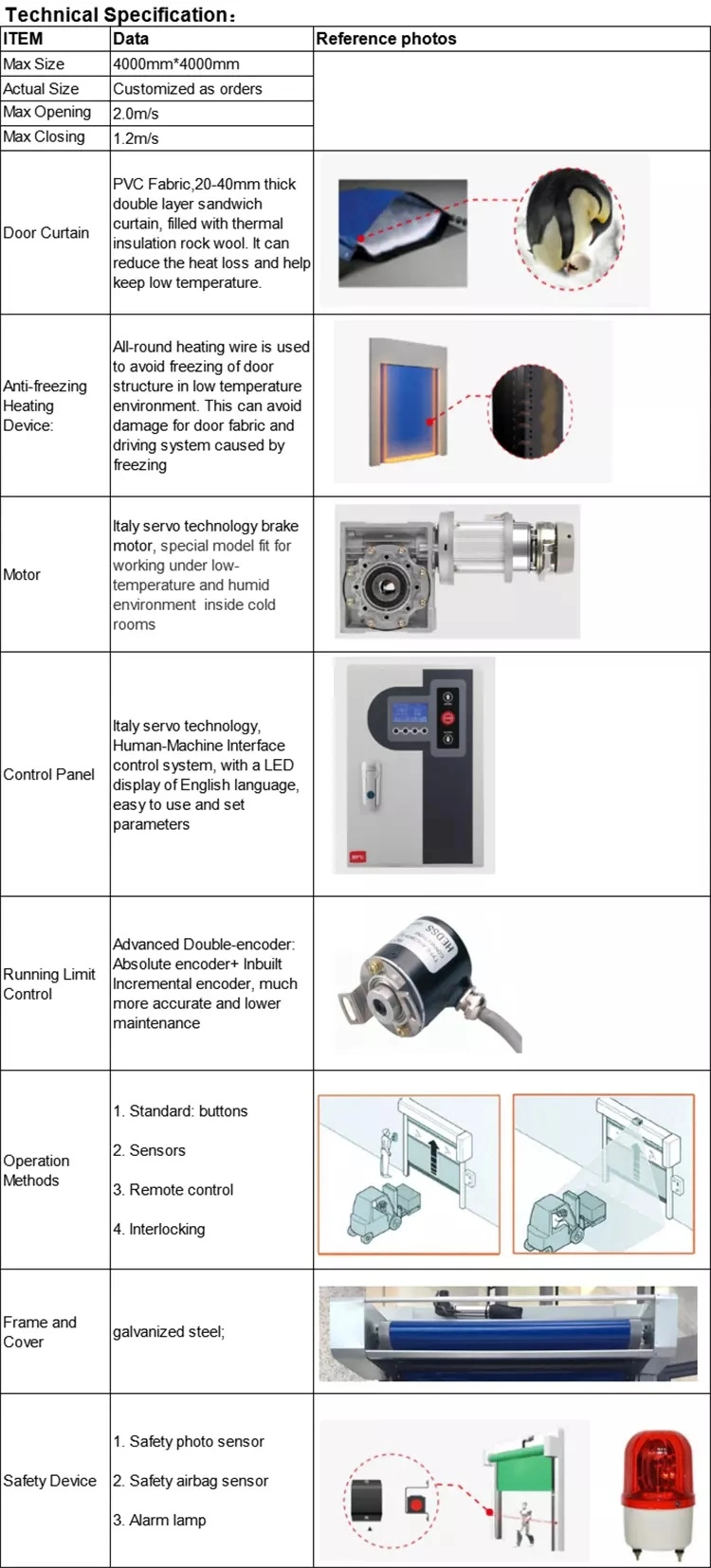 Description:
Freezer High Speed Doors. A special type thermal insulated rapid rolling doors fit for freezers , cool rooms, and cold
stores. It can reduce thermal transmission by fast opening and closing, and thermal insulated door curtain. For each
door, it can help customer save energy cost by at least USD 8000 every year,than traditional normal speed cold room
sliding doors.
Features:
1. High speed opening and closing
The running speed can reach 2m/s, 10 times as traditional roller shutter door. This obviously improves passing effici-
ency through it and enhances overall output.
2. High frequency operation
The operation frequency can reach more than 1000 times per day without any faults. This meets need of heavy tra-
ffic in some areas.
3. Good thermal-insulation
Double skin is 0.8mm PVC fabric, and inside is filled with high-density insulating rock wool . Total Thickness of door
panel : 20-40mm; With excellent thermal insulation performance. It can prevent thermal loss of the cold room and sa-
ve energy
4. It can work in extreme low temperature.
There is heating device around the door to avoid freezing when door running.
5. Excellent safety performance
Dual protection design. Every door is equipped with safety photo sensor and proximity sensor, avoiding collision acci-
dents and protecting passing human or vehicles.
6. Complying with Food-grade and GMP norm
Special design seal structure. PVC fabric is dust-proof and easy for cleaning.
7. High safety protection
Safety photo sensor. When there is human or vehicle under the door, the door will stop closing and get up automati-
cally. This will avoid accident collisions.
8. Self-repairing
When there is a collision accident by forklift or other objects, the door will not be damaged. And it can recover autom-
atically or semi-automatically under hand assistance. This design effectively reduces the maintenance and repair wo-
rk caused by collisions.
9. High air-tightness
Special zipper design structure, connects the fabric and guide rails as a whole body, eliminating gap between them.It
obviously improves overall seal performance and air tightness.
Applications:
Freezers, Cold Rooms, Cool Room, Food Warehouse, Drug Warehouse.

Optional Parts:
| | | |
| --- | --- | --- |
| NO. | ITEM | CHOICE |
| 1 | Operation | Radar sensor, Remote control, Vehicle loop detector,Pull switch |
| 2 | Frame material | Powder coated galvanized steel/304 stainless steel |
| 3 | Motor position | Right/Left |